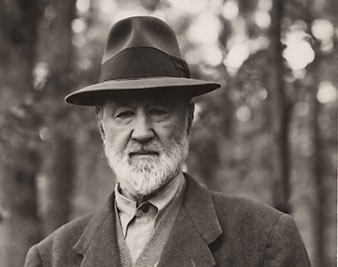 A Musical Weekend at Williams, II:
Charles Ives (1874-1954), Piano Sonata No. 2, "Concord, Mass., 1840-1860)
1. Emerson
2. Hawthorne
3. The Alcotts
4. Thoreau
David Porter, Piano, with Anne Royston '08, flute
Brooks-Rogers Recital Hall, Williams College
Charles Ives' Concord Sonata is without a doubt one of the great monuments of American music. It is not heard often, because it is difficult for both the pianist and his audience, and perhaps that is a good thing. It would be a pity if, like Beethoven's Ninth Symphony, it were played too often in unworthy performances. It embodies the highest principles of American thought and American music, and a performance of it should remain a special occasion, as if it were a secular Missa Solemnis.
Ives first formed the idea for the work in September 1911, looking back to earlier work for material. He completed a draft of the second movement, "Hawthorne," the following month. In spring 1914 he performed a draft of "Emerson" together with excerpts from Hawthorne. He dated his MS of "The Alcotts" November 28, 1914 and Thoreau May 20, 1915. However, he continued to work on them intensively over the next three or four years and continued to revise the work not only up to the first privately printed edition of 1920 and the first public edition of 1947, but even later. Ives also found it necessary to express his thoughts on his subject in writing: in his Essays Before a Sonata, a secondary (or dependent) masterpiece in its own right. In this endless exploration of constantly evolving and renewing musical thought Ives realized a striving spirit which is essentially American and essentially characteristic of the Transcendentalists, with whom Ives had a deep connection which was not merely intellectual. As Jan Swafford said in his Charles Ives, a Life in Music, "Emerson had slept in the house Ives was born in. Ives grew up hearing Emerson's words through grandmother Sarah and his uncle Joe, who knew the man personally. Uniting his sense of the philosopher with his most admired composer, Ives saw Emerson as a Beethovenian figure. He finished his preface for the movement in the Essays Before a Sonata in this way:
There is an "oracle" at the beginning of the Fifth Symphony–in those four notes lies one of Beethoven's greatest messages. We would place its translation above the relentlessness of fate knocking at the door, above the greater human-message of destiny, and strive to bring it towards the spiritual message of Emerson's revelations–even to the "common heart" of Concord–the Soul of humanity knocking at the door of the Divine mysteries, radiant in the faith that it will be opened–and the human become the Divine!"
Indeed, from the very first bars, the Concord Sonata is replete with Beethovenian allusions, specifically in the famous "fate" tattoo, which is woven into the fabric of the entire work.
As David Porter, who has been studying the Concord Sonata for years, pointed out in his genial spoken introduction, "Emerson" is the most difficult of the four movements for the listener. And so it should be. This difficulty and refusal to compromise is in fact an integral part of the style in which Ives chooses to address the greatest of the transcendentalists. No other music come so close to expressing thought itself. Strauss' Also Sprach Zarathustra seems meretricious and adolescent in comparison. J. S. Bach's The Art of Fugue, A Musical Offering, and The Well-Tempered Clavier, etc. are pure thought, but musical thought, free from any reference to any other form of ratiocination. As for Plato, thought is character for Ives, and Hawthorne appears as a fanciful Mercutio, the Alcotts in cultured domesticity, and Thoreau as a mystic, at one in perception and consciousness with wild Nature. Like Emerson and Thoreau, Ives is unwilling to compromise his ideals. He is so sensitive and totally committed a commentator on the Transcendentalists that he should be considered a posthumous member of their fold. As in his own day, his music can be offensive to some and off-putting to others, but it always embodies the most absolute integrity.
David Porter's performance met Ives on his own terms. The integrity of his reading was fully equal to the music. He had made every bar his own on a deep level and projected the music straightforwardly, as Ives would have wished, with all its harshness and difficulty laid open. If it was Thoreau who climbed mountains physically, Emerson climbed mountains of the mind and in that was the greater climber. Ives' "Emerson" evokes intellectual and spiritual mountains, and listening to it is like climbing them. Porter remained true to this quality in his reading and captured the very essence of the music. However, "Emerson" is by no means hermetic, and once the listener begins to absorb it, he or she will come to love it. It can even become an obsession—a necessity if one is going to learn to play it. In addition to having thoroughly mastered the sonata, Porter possesses a masterly technique, which enables him confront the work with full confidence—not an accidental in this case, since it is another American virtue, of which the composer in ways enjoyed a full share and which he embodied in his daring, occasionally outrageous music. In this vein, Porter was also able to master the challenging acoustics of Brooks-Rogers. Parts of the sonata are indeed loud, and, maintaining these at an imposing, but listenable level, he adjusted quieter dynamics accordingly, so that the full dynamic and tonal range of the work came across. He is the first musician, except perhaps for the players of Takács Quartet, to achieve this in my hearing, at least. Williams senior Anne Royston played he flute solo most creditably, without entirely merging with the great eccentric himself.
It is entirely fitting that Ives, the great musical eccentric, should be so compellingly interpreted by a musician who has not made a career of concert tours and the usual cursus honorum of keyboard virtuosos, but who has taught Classics as well as music and served as a college president. And, even beyond the confines of conscious interpretation, David Porter got the Concord Sonata just right.